Environmentally Friendly
Chitosan based solutions have been trusted across North America in reducing turbidity and removing unwanted contaminants in the most sensitive ecosystems such as hydroelectric dam restoration and storm water canals. Since chitosan is acrylamide-free and 100% biodegradable through enzymatic activity, it ensures there are no bio-accumulation concerns after treatment.
Superior Performance
Solutions involving chitosan flocculants have more benefits than simply being environmentally friendly. Chitosan performs better than alternatives too. Chitosan-based treatment systems are adaptable and versatile to achieve water quality goals on projects with varying site conditions, soil types, and seasons. Additionally, it generates solids with a lower percentage of water entrained, which creates a stable and strong floc. A high-quality floc allows treatment systems to run more efficiently with benefits both upstream and downstream:
Fast settling times

Easy filtration and backwashing

Reduce hauling and disposal costs

Removes a variety of solids - including fine sediment, heavy metals, and PCBs
Simply put, chitosan provides a more effective treatment at lower dosages than traditional synthetic polymers in most applications.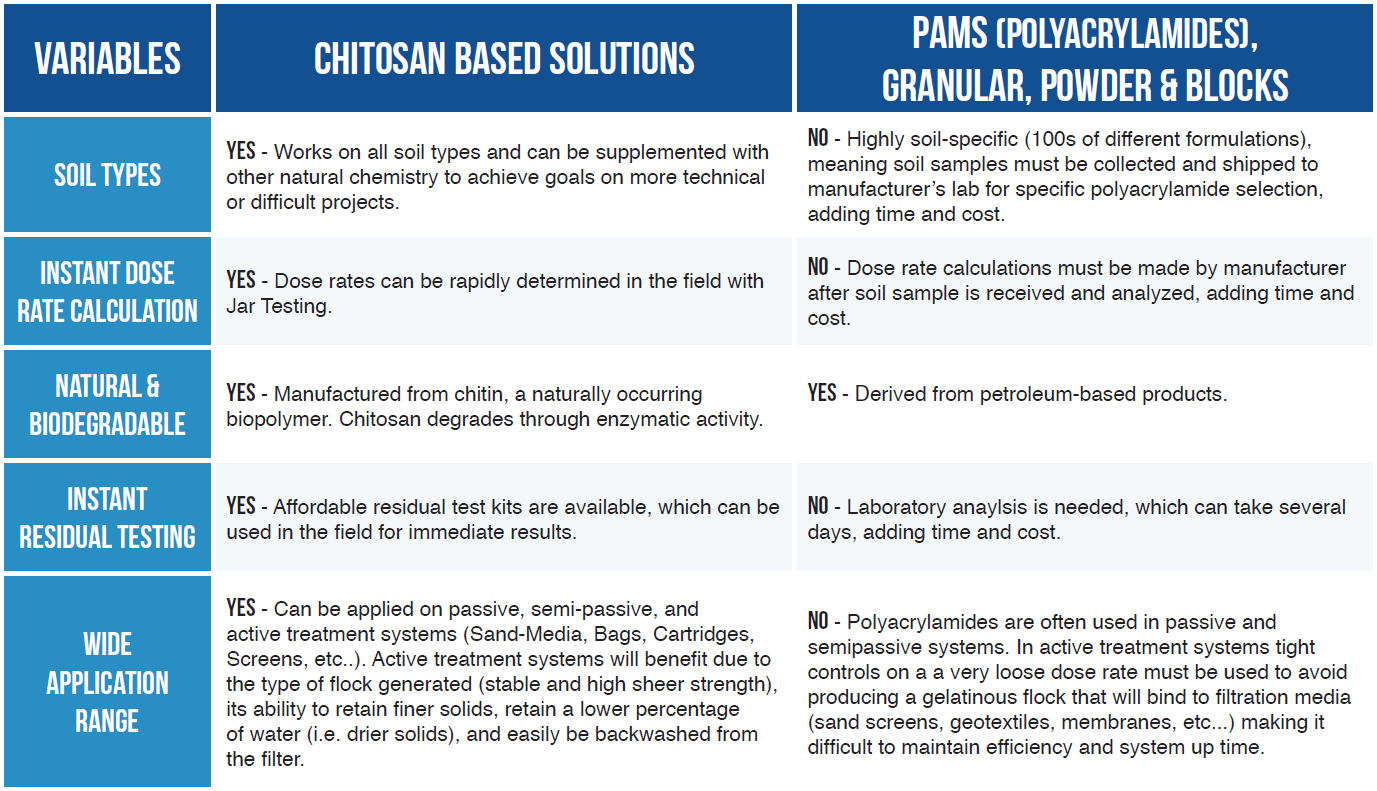 Residual Test Kit
The EPA's Clean Water Act prohibits the discharge of toxic pollutants in amounts that can adversely impact freshwater and marine organisms. Water quality permits often require you to test effluent water for specific analytes to verify you are compliant with local and federal discharge regulations.
Depending on the specific regulations and requirements of your project, it may also be required to verify that treatment chemicals are not discharged in the effluent water. Using chitosan-based flocculants as part of your water treatment solution allows you to complete residual testing on-site in about 10 minutes. These residual tests empower you to verify and document that no residual chemistry is being released back into the environment – ensuring you are meeting government regulation, while maintaining production time, and eliminating the costs and hassle of using an outside lab that would be required by synthetic treatment chemicals, like polyacrylamides.
When using synthetic polymer flocculants - like PAMs - Whole Effluent Toxicity (WET) tests are used to measure the wastewater's effects on organisms' ability to survive. These toxicity tests are generally done by a third party, take between 24-96 hours to complete, and have been known to cost upwards of a few thousand dollars.
Chitosan flocculants are used in systems ranging from active treatment for mobile water treatment, semi-passive pumped water incorporating coarse filtration and geotextile bags, and completely passive models, such as bio-filtration and check dams.
While polyacrylamides can be used with passive and semi-passive systems, it is difficult to use them with active treatment systems since they require tight controls on a very loose dose rate. Otherwise, they produce a gelatinous flock that will bind to filtration media and make it difficult to maintain efficiency and system up time.
Active
Using a chitosan based solution enhances the efficiency and consistency of most filtration equipment used in active treatment systems, by aiding the capture of finer solids, reduce the frequency and difficulty of back-washing, allow the particles to settle faster in settling tanks, and producing solids and contaminants that have a lower percentage of water, which reduces hauling and disposal costs. A typical result would be under 20 NTUs.
Semi-Passive
Since only low mechanized equipment is required, the maintenance and cost is significantly cheaper than using an active system.
When using a chitosan solution with a semi-passive system, you can expect to see the turbidity levels reduced to 20-50 NTUs, giving you a cost-effective model for meeting EPA & ELG requirements.
Passive
Passive treatment systems are the most cost-effective model for meeting EPA requirements. Since there are no mechanized equipment requirements and no need for water storage, it typically requires the least amount of maintenance and can be easily applied to new and existing BMPs.
The combination of a chitosan solution and natural filtration, you can expect to reduce your turbidity down to anywhere between 50-250 NTUs.